Julius Shulman Institute Excellence in Photography Award
2018
Benny Chan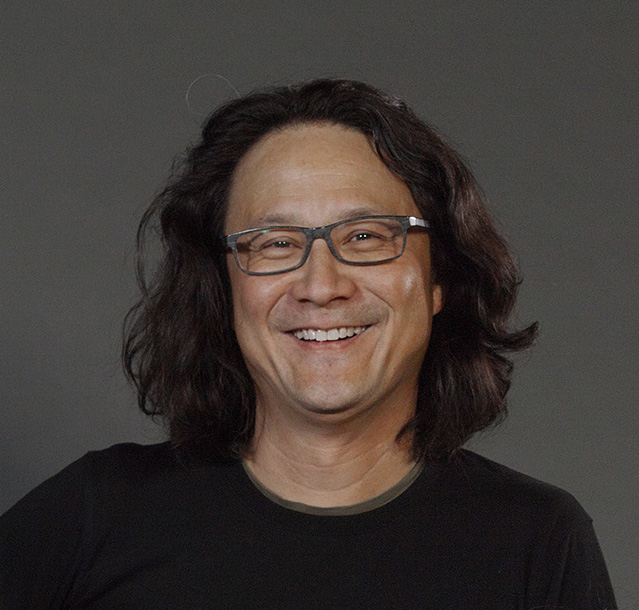 Photographer Benny Chan
http://fotoworks.cc/
Benny Chan is a graduate of the Southern California Institute of Architecture and a Los Angeles local who works as both an art and commercial photographer. Through architecture and photography, Benny Chan makes sense of the world; he is fascinated by how things go together. His photographs may collectively be read as an assembly manual for Los Angeles. They show the city from top-down perspective, as plan-views of its infrastructures and everyday monuments. They get inside the machines that run the metropolis, from the port of Los Angeles, to utility stations, transportation terminals, warehouses, and laundromats.
These images depict extremes, extreme heights, extreme scales, extreme access. And, they all have extreme stories. Chan's efforts to make sense, to figure out, know no bounds. He hangs from helicopters to get the right angle. He builds his own cameras to surpass focal length limitations of off-the-shelf models. And, he finds his way behind the scenes and into highly restricted sites.
2017
Todd Eberle
Photographer Todd Eberle
http://toddeberle.com/
Todd Eberle, born in Cleveland, Ohio in 1963, is an acclaimed New York City-based photographer whose work is united by a clean and analytical minimalist aesthetic. Eberle's subjects run the gamut from political, art, and cultural figures to architectural landmarks and technology.
Eberle gained international recognition for his photographs of Donald Judd's art and furniture that he made at the artist's request at The Chinati Foundation in Marfa, Texas, and elsewhere around the world in the 1990's. Those photographs culminated in the book, "Donald Judd Raume/Spaces" (Hatje/Cantz) in 1993. Informed by this experience, Eberle's photographs are characterized by an ever-present sense of control, proportion, and symmetry.
2016
James Welling

Photographer James Welling
http://jameswelling.net
James Welling pushes the limits of photography with his continued exploration of the medium. Since the mid 1970's he has explored photographic representation using an exhaustive range of photographic technologies and processes. Welling has created traditional gelatin silver prints, chromogenic prints, Polaroids, and digital pigment prints using cameras ranging from an 8 x 10 view camera to a digital point and shoot. In his recent photograms, he has used no camera at all.
Welling's work has been exhibited internationally at the Museum of Modern Art, the Metropolitan Museum of Art, the Museum of Contemporary Art Los Angeles, the Pompidou Center in Paris, and the San Francisco Museum of Modern Art, among many others. He was included in the 2008 Whitney Biennial and in Documenta IX in 1992. In 2014, the New York Times identified Welling as one of today's most influential photographers. That year, the artist was named one of the recipients of the Infinity Award given by the International Center of Photography, New York.
2015
Hélène Binet
Over a period of twenty-five years Hélène Binet has photographed both contemporary and historical architecture. Her list of clients includes architects Raoul Bunschoten, Caruso St John, Zaha Hadid, Daniel Libeskind, Studio Mumbai, Peter Zumthor and many others. While following the work of contemporary architects – often from construction through completion – Hélène Binet has also photographed the works of past architects as Alvar Aalto, Geoffrey Bawa, Le Corbusier, Sverre Fehn, John Hejduk, Sigurd Lewerentz, Nicholas Hawksmoor and Dimitris Pikionis. More recently, Hélène Binet has started to direct her attention to landscape photography, wherein she transposes key concerns of her architectural photography. Hélène Binet's work has been published in a wide range of books, and is shown in both national and international exhibitions.
Hélène Binet is an advocate of analogue photography and therefore she exclusively works with film.
2014
Grant Mudford
Grant Mudford lives and works in Los Angeles, California. He was born in Sydney, Australia, in 1944. After studying architecture at the University of New South Wales, Sydney, he started a commercial photography studio in that city. From his studio, Mudford did shoots for advertising, fashion, magazine editorial and theater, as well as numerous short films. From 1974-1977, he travelled widely in the United States, under the auspices of a Visual Arts Board Travel Grant from the Australia Council for the Arts. At this time, he settled in Los Angeles. In the ensuing years, Mudford has undertaken editorial assignments for numerous publications, including Architectural Record, Esquire, Architectural Digest, Vanity Fair, Progressive Architecture, the Los Angeles Times, the New York Times and Architecture. He has also participated in more than three-dozen solo and group exhibitions from 1974 to the present.
Regularly providing advice to many in the LA photographic and artistic communities, Mudford is a technical guru, known particularly for his command of point light source printing. As a commercial photographer, he has extensively documented structures by some of the most accomplished American architects including Louis Kahn, Frank Gehry, Rudolph Schindler, Craig Ellwood, and Frank Israel. Embracing both an architect's overall vision and the subtlety of structural detail, Mudford treats architecture as something made to enhance the eye and the mind. Underlining the classical appeal of correct proportion and line, his photographs analyze the relationships of geometry, demonstrating how shapes and lines define the way we live. Conveying the essence of a building through choice detail, Mudford is a master interpreter of architectural space and light.
2013
Catherine Opie
Copyright Kevin Scanlon for The New York Times
Catherine Opie lives and works in Los Angeles.  She was born in Sandusky, Ohio in 1961.  She received her BFA from the San Francisco Art Institute in 1985, and an MFA from CalArts in 1988.  In 2000, Opie was appointed Professor of Fine Art at Yale University, and in 2001 she accepted the position of Professor of Photography at UCLA.
Catherine Opie's photographs include series of portraits and American urban landscapes, ranging in format from large-scale color works to smaller black and white prints.  Moving from the territory of the body to the framework of the city, Opie's various photographic series are linked together by a conceptual framework of cultural portraiture.
Catherine Opie has exhibited extensively both nationally and internationally. In 2008, a mid-career survey of her work, entitled, "Catherine Opie: American Photographer," was on view at the Solomon R. Guggenheim Museum in New York. Recent solo exhibitions have been organized by the Los Angeles County Museum of Art, the Aldrich Museum in Ridgefield, CT, the Museum of Contemporary Art in Chicago, the Walker Art Center in Minneapolis, The Saint Louis Art Museum, the Photographers' Gallery in London, The Museum of Contemporary Art in Los Angeles, the Institute of Contemporary Art, Boston, and the Long Beach Museum of Art. Opie has also exhibited at Regen Projects in Los Angeles, the Whitney Museum of American Art in New York, SITE Santa Fe, the Centre d'Art Contemporain in Geneva, Switzerland and the Kunstmuseum Wolfsburg in Germany.
2012
Pedro E. Guerrero
Copyright Paul Marchand
Pedro E. Guerrero is one of the most prolific architectural photographers of the 20th Century. Born in 1917 in Casa Grande, Arizona, his career began in 1939 when, at the age of 22, he visited Frank Lloyd Wright at Taliesin West and was immediately hired as the architect's principal photographer. Since then his photographs have been featured in nearly every major publication by and about Wright, including Henry-Russell Hitchcock's In the Nature of Materials: The Buildings of Frank Lloyd Wright 1887-1941. Guerrero's close relationship with Wright inevitably shaped his perception of the built environment. He approached architecture as though it were sculpture, capturing the dynamic spatial qualities of the compositions. This sensitivity attracted magazine editors and, after moving to New York and then Connecticut in the 1940s, he established a career that paralleled that of Julius Shulman and Ezra Stoller. In addition to commercial work for journals like House & Garden Magazine, Vogue, and Architectural Record, for which he documented buildings by modernists from Eero Saarinen to Joseph Salerno, he also photographed the work of "The Harvard Five," a group that included John M. Johansen, Marcel Breuer, Landis Gores, Philip Johnson and Eliot Noyes. Guerrero also established close relationships with artists Alexander Calder and Louise Nevelson, and his photographs of their work reflect an important, yet often overlooked understanding of the blurred line between their sculpture and the homes in which they were created. While Guerrero's work rightfully continues to be associated with Wright, this exhibition offers a unique overview of the diversity of Guerrero's subjects, from seminal examples of modern architecture to portraits of the designers whose work helped define modern life in the United States.
2011
Richard Barnes
Work by New York-based Photographer Richard Barnes has been shown in solo exhibitions at such institutions as the Museum of Photographic Arts in San Diego, the Carnegie Museum of Art in Pittsburgh, the Carpenter Center at Harvard University, Cranbrook Academy of Art Museum, and the University of Michigan Art Museum. His works can be found in numerous public and private collections, including the Metropolitan Museum of Art, the Whitney Museum of American Art, the Boston Museum of Fine Arts, The Cleveland Museum of Art, the Philadelphia Museum of Art, the San Francisco Museum of Modern Art, and the Hirshhorm Museum and Sculpture Garden. Barnes has lectured extensively, including at the Graduate School of Design at Harvard University, Parsons School of Art and Design in Manhattan, and the San Francisco Museum of Modern Art. He served as adjunct professor/visiting artist at the San Francisco Art Institute and has taught at the California College of the Arts in San Francisco.
Barnes was a recipient of the Rome Prize 2005-2006 and his photographs of the cabin of Ted Kaczynski, aka the "Unabomber," were featured in the 2006 Whitney Biennial and awarded the Alfred Eisenstadt Award for Photography. He was the 2009 recipient of the Sidman Fellow for the Arts from the Institute for the Humanities at the University of Michigan. In 2010 completed a residency from Lightwork/Syracuse University.
A monograph of his work entitled Animal Logic, published 2009, has received favorable reviews and was included in the American Institute of Graphic Arts juried competition/exhibition 50 books/50 covers in 2010.
Wim de Wit presented Richard Barnes with the Julius Shulman Institute Excellence in Photography Award at the School of Architecture annual fundraiser on Sunday, October 9, 2011.
The award ceremony was followed by the opening of Richard Barnes: Unnatural Spaces, an exhibition illuminating a range of explorations into the excavated, compiled, and organized manufacturing of display. Highlighting works from Barnes' Unabomber (1999), Murmur (2006), and Animal Logic (2009) series, the exhibition takes a provocative look at the way architecture is both a complicit partner in, and also an unwitting subject of, the practice of presentation. This exploration is uniquely extended to include Barnes' global body of commissioned work, from Los Angeles to Kazakhstan.
Curators: Emily Bills and Eve Schillo
Exhibition Design: Andrea Dietz, Jason McCann, and Heather Peterson
2010
Iwan Baan
http://www.iwan.com/iwan_index.php
The Julius Shulman Institute is proud to present the first annual Photography Award to Iwan
Bann.
New York Times profile Iwan Baan – Structural Integrity and People, Too – January
Benedikt Taschen presented Iwan with the Julius Shulman Institute Photography Award at
the 10-10-10 Gala on Sunday, October 10, 2010.
The Julius Shulman Institute is proud to present the first annual Award for Architectural
Photography to Iwan Baan.  Iwan Baan is a Dutch photographer known primarily for his images
that narrate the life and interactions within architecture. Born in 1975, Iwan grew up outside
Amsterdam, studied at the Royal Academy of Art in The Hague and worked in publishing and
documentary photography in New York and Europe.
Iwan fell unexpectedly into the subject of architecture in 2005 when he proposed to document a
project by OMA to Rem Koolhaas, leading to his first major project, the documentation of the
construction of OMA's China Central Television (CCTV) building and then the National Olympic
Stadium designed by Herzog & de Meuron.
Iwan collaborates with foremost architects, photographing institutional, public and private projects
by Rem Koolhaas, Herzog & Meuron, SANAA, Morphosis, Frank Gehry, Toyo Ito, Steven Holl,
Diller Scofidio + Renfro and Zaha Hadid. His work is characterized by the portrayal of the context,
society and environment around architecture. His also completes documentary projects on social
initiatives such as schools, libraries and community centers in Africa, Asia and Latin America.
His images appear frequently in The New York Times, Domus, Abitare and The New Yorker, among
others. Current and upcoming exhibitions include Small Scale, Big Change: New Architectures of Social
Engagement at the Museum of Modern Art and Richard Neutra in Europe, which opened this May at the
Marta Herford Museum and will travel. Past exhibitions were held at the Architectural Association
in London and the AIA New York Chapter. Iwan frequently collaborates on books covering diverse
subjects including Sanaa studios, the Porsche Museum, Steven Holl, and the upcoming book,
Brasilia—Chandigarh: Living With Modernity.
New York Times profile Iwan Baan – Structural Integrity and People, Too – January
Benedikt Taschen presented Iwan with the Julius Shulman Institute Photography Award at the 10-
10-10 Gala on Sunday, October 10, 2010.
The Julius Shulman Award for Excellence in Communication
The Annenberg Center for Photography
2011
Diane Keaton
Actor
2010
Eric Bricker
Director and Producer "Visual Acoustics"
2009
Henry T. Segerstrom
Visionary Businessman, Philanthropist
2008
Lily Tomlin
Comedian, Actress, and Producer
2007
Dustin Hoffman
Actor
2006
Dr. Robert K. Schuller
Founding Pastor of the Crystal Cathedral
2005
Benedikt Taschen
Publisher
2004
Gil Garcetti
Photographer
2003
Cathedral of Our Lady of the Angels
An Ecumenical Dialogue
2002
Huell Howser
Producer/Host "California Gold"
2001
Julius Shulman
Architectural Photographer
2000
The Julius Shulman Institute AiA/SFV Amateur Photography Award

Devin Gharakhanian (undergraduate architecture major)

Naveen Gowda (graphic design major)

Abdul Kader Kabbani (undergraduate architecture major)